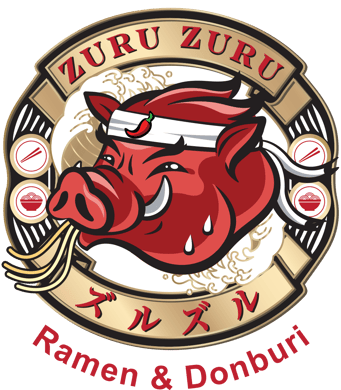 ZURU ZURU

is the sound effect for a slurping motion, like when eating noodles very fast.
At ZURU ZURU, the keys of us are the fresh quality of all ingredients, the delicately Japanese cooking process for deliciousness, and your enjoyment of 5 levels of spiciness in your ramen.
Our house specialty in Japanese spices we house-crafted the spice recipe into 5 levels for more enjoyment in Slurp your ramen. You can choose from 5 levels; Level 1 No spicy, Level 2 Mild, Level 3 Medium, Level 4 Extra Spicy, and Level 5 Hell Spicy.
We are so serious about the highest quality of all ingredients to serve all of our dishes with the combination of tastes, freshness, and healthiness to you and your family. That's our work philosophy in ZURU ZURU.
ZURU ZURU's mission is to bring Japanese soul food to your doorstep and transport you to downtown Tokyo.
Our tonkatsu broth is delicately simmered 18 hours every day to receive the highest quality broth we can do like the traditional ramen in Japan.
Cha-shu pork is slowly caramelized in the house with the crafted recipe to achieve gorgeous texture and taste.